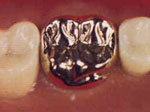 The preparation of a tooth for a gold crown is the simplest and least complicated preparation as there is minimal tooth structure removal with as much as possible of the healthy tooth structure remaining untouched. While porcelain is hard by comparison, it may cause wear on opposing teeth over the years where gold is not as likely to do so. Gold is also easier to fit to the area where the tooth and crown meet for a better fit. Gold is also a healthier environment for the gum tissue.
We want to hear from you.
If you have questions, send us an inquiry and we will get back to you as soon as we can!